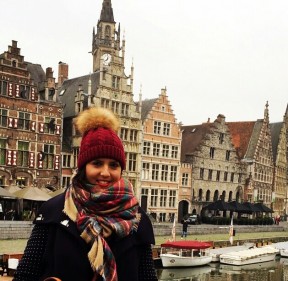 Hello. You were elected within the bureau of the Young Democrats for Europe at the last Congress in Bilbao in September. For your team, Europe has to show its face, then tell us who you are and what you do…
I am Oiane Luna, a Basque woman of 26 years old, who was born and lives in Santurtzi. A little village located in the outskirts of Bilbao. Santurtzi used to be the principal port of Spain, and nowadays although less important, its privileged geographic location allows the port to act as a link to the main international ports and it especially has good connections with both the American continent and the north of Europe.
I am graduated in law (international specialty) from the University of the Basque Country. And nowadays, with the purpose of consolidating my career, I am studying a new degree in Political Science. Meanwhile I am working as a consultant, helping entrepreneurs to set up their own business.
Can you introduce yourself and tell us in a few words about your background and your local political commitments?
I joined the Basque National Party (EAJ-PNV), with the main purpose of taking actively part in the policies related to my country, and always with the premise of having an independent voice as a nation in Europe.
Nowadays, I sit in the national board of Euzko Gaztedi (the youth organization of EAJ-PNV), as the responsible of Foreign affairs.
Beyond your civic commitment, can you tell us what are your favorite activities / leisure activities?
One of my passions in life is travelling, because I love sightseeing and learning about different cultures through their gastronomy.
Besides travelling I also like reading and going to the cinema, and last but not least, I like playing basketball, the sport I have practiced since I was a child.
The elected team, widely renewed around Miroslava Calegari, is at work for almost 3 months now. Can you tell us the reasons for your involvement in the movement and your mission in this team?
As an active member of my party I have realized that most citizens don't trust European institutions, that's why I decided to take part in this organization. I would like to bring closer, not only the institutions but also policies to people.
We are the voice of the European youth; the policies which are applied today, will affect our future, so we should decide how our next years would be like.
Finally, according to you, what should be the priority for Europe and YDE for these next 2 years?
As I have mentioned before, policies of today will affect our future; so firstly, we should work out the formula to be over with the devastating unemployment rate which is affecting Europe.
Education and health are the pillars of our society which should be preserved. According to these premises the priorities of this institution should be to focus on the improvement and modernity of these subjects to put an end to the discomfort of the citizens.