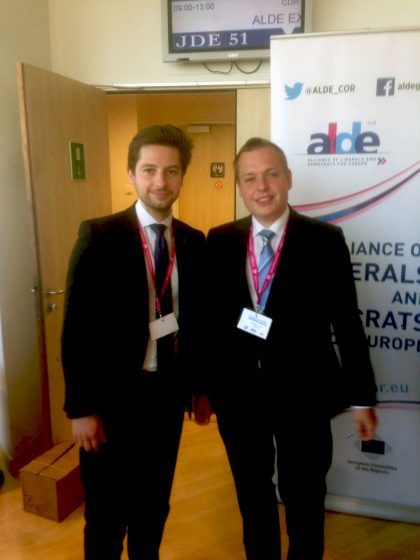 On the 27th and 28th of August, Ludovic BENMOKHTAR – YDE individual member and Deputy Mayor for Culture for the City of Bernay (Normandy, France) – and Sebastian LEIß – member of the Junge Freie Wähler and Leader of the Liberal Council Group at the County of Dachau (Bavaria, Germany), attended the 1st Young Elected Leaders Summit organised with the ALDE Group at the Committee of Regions and the European Liberal Youth.
These two days of meetings and visits allowed them to discover the work of elected representatives of the Committee of Regions (CoR) as well as to get acquainted with other young elected Liberals and Democrats from all over the European Union.
To Ludovic: "As a young local elected representative of a rural town, I am witnessing the great difficulty for the EU to publicise its actions. Unfortunately, because of its simplicity, populist discourse is advancing in our rural areas. The round-tables held during the Summit allowed me to understand that the problems that affect Bernay, the city where I am elected, also affect other European cities. We were able to share our experiences, the solutions to make and hear the elected representatives of the Committee of Regions, with their experience."
This weekend is not meant to remain a simple event but has the ambition to create a network of young pro-European as several of them may be tomorrow's European leaders.
European Democrat and Liberal Youth organisations and the ALDE Group at the Committee of Regions, thanks to this summit, want to build a network that will allow young elected leaders to work efficiently tomorrow towards a more efficient and sustainable European integration.
Insightful discussion on innovative approaches to integrat° & new economic models w/ young Democrat & Liberal local leaders from all Europe pic.twitter.com/BSrXBeqD66

— Young Dems for EU (@YoungDemsEU) August 28, 2017